Extreme Macro Eyepiece
by Johan J Ingles-Le Nobel
Last updated August 31, 2017

COMMENTS (0)
---
There are two eyepieces that I use for extreme macro and one in particular is an invaluable aid to shooting in the field.
The other, an old series-a Pentax magnifying eyepiece, was ok at the time, but I stopped using it because it sticks out in a way that I felt might poke my eye out sometime. But a lot better than nothing, and with today's digital screens lacking split-screen focusing, a magnifying eyepiece can be quite a good help for critical focusing.
Seagull Right Angle Finder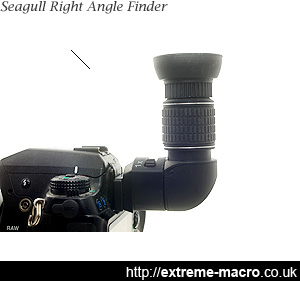 A Seagull right angle finder mounted on my camera. The Seagull is a really excellent and well made accessory and gives you an amazingly sharp and bright view. Thoroughly recommended if you're finding that crawling on the grass gets a bit old, a super piece of kit. Costs about £25 from traders in the Far East on eBay.
To give it its proper name, the eyepiece that I finally settled on, the Seagull right angle finder, is an eyepiece that you slip over and attach on the eyepiece of your camera, and allows you to look through the camera from the top of the camera.
For extreme macro the advantage should be obvious - it makes waist-level or low-position shooting infinitely easier which, if you're trying to shoot an insect on the ground on a blade of grass, is a great relief. You can rotate this thing all the way round which gives you a viewfinder to be able to use at pretty much any angle.
What surprised me was just how bright and large the image is that comes through this thing. I would almost say that the image through the Seagull is bigger and brighter than the original image through the viewfinder, although I think that's a physical impossibility. But the clarity certainly makes it feel like it is, and the thing is beautifully sharp too.
Seagull right angle finder: thoroughly recommended
Seagull Right Angle Finder Specifications
The Seagull Right Angle Finder is about 10cm or so long, and there's a choice with a lever of toggling between 1x and 3.3x. The high optical quality is achieved by 9 elements in 5 groups with a glass roof prism inside to reflect the light 90 degrees. It's possible to set diopter adjustments on the eyepiece from + to -4.
It weighs very little at 180gm and the thing seems very solidly constructed. It costs up to about £40, depending where you get it. It comes with a bunch of different adapters for different makes and the Pentax adapter fits really well.
Pentax Magnifier FB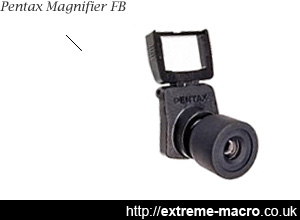 Pentax Magnifier FB, a tiny thing that slips over the eyepiece and that you focus by twisting the end. Useful for critical focus but the way that it sticks out makes it a bit of a health hazard if you're in a rush to get a shot.
The Pentax Magnifier FB is a simple version of the Seagull above. This little Pentax accessory also sits over the eyepiece and purports to give 2x magnification when flipped down. It certainly helps with focusing and it moves your face a bit further away from the back of the camera so you won't get as much "nose oil smudge" on the camera's screen.
It does vignette the view a bit though when it's on 2x which I find quite annoying but on the other hand it's easy enough to flip up to see the full view again. The only thing is when it's flipped down onto 2x use it does stick out a fair way so be careful you don't poke your eye onto it. Costs about £50 when bought new, but is now no longer made.
The Future Of Viewfinders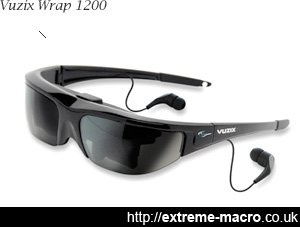 Vuzix glasses - it is only a matter of time before we can start using devices such as these to see the HDMI output of our cameras.
Is there one? I personally don't see much of a future for old fashioned glass right angled viewfinders because of the progress of technology. Many cameras now come with articulated screens which do the same thing, and external field monitors have come down in price to below 100US$. Sooner or later someone will also make some HDMI glasses that can be connected to the HDMI port on your camera and give you an eyepiece projection with the view from your camera. They're not very far away.
Related Articles
---