Pentax AF160FC Ringflash Review
by Johan J Ingles-Le Nobel
Last updated August 31, 2017

COMMENTS (4)
---
The Pentax AF160FC ringflash is Pentax' dedicated macro flash, has a guide number of 16, takes four AA size batteries and is compatible with all Pentax digital SLR cameras.
This and the
Metz 58
are the two most capable flashes I have out of my flash range, which also includes the
Pentax AF540FGZ
and
Pentax AF360FGZ
(the older models).
The Pentax AF160FC has P-TTL auto, TTL auto and manual modes (full, 1/4, 1/16) modes, measures 70 x 110 x 115mm and weighs 405g without batteries. At the time of writing (2013) the Pentax AF160FC ringflash retails for about £500.
Modern Ringflashes
Ringflashes have long been slammed by extreme macro photographers under the premise that they give 'flat, uninteresting light'. This, however, is based on the ringlashes of 20 years ago when a ringflash used to be made out of a single circular tube, so the light came from all directions and there wasn't anything that could be done about it. Flat and uninteresting.
However! Ringflashes have come on since then and the better ones are now made out of two semicircular tubes, ie this Pentax one and the new Canon MR-14EX II Ring Flash. Whilst this may make for an unusual reflection, it also means that it's now possible to set the strength of each, ie vary the light so that it's more interesting again, and not flat.
It's A Bit Excellent!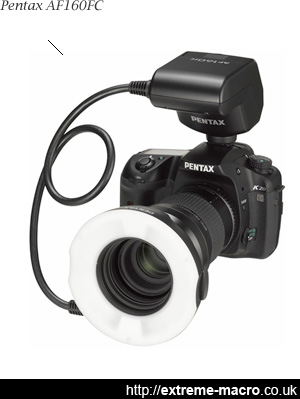 Pentax AF160FC ringflash.
Definitely expensive, but its twin semi-toroidal flashtubes, variable light ratios, focus LEDs and PTTL functionality make it outstanding for extreme macro. Costs about £500.
For extreme macro in the field, the Pentax AF160FC ringflash is really, really good. Given its expensive price, most people will consider the alternative offerings from Metz and Vivitar, the Metz Mecablitz 15 MS-1 digital or the Vivitar 5000AF macro ring flash. Both of these are a fraction of the cost of the Pentax unit and praised by their purchasers, but this maybe because they don't know what they're missing with the Pentax unit. The Pentax unit has several advantages that are considered key for deciding a ringflash for extreme macro compared to the other cheaper ringflash units on the market.
Semi-Toroidal Tubes
The Pentax AF160FC uses two large 120mm semi-toroidal (half an '0') flash tubes inside, and this is a very good thing. The whole point of ringflashes is to provide uniform light from all directions. Back in the day there used to be ringflashes that had a perfectly circular flash tube, but you don't find these in anything other than high end studio units anymore, which cannot be used outside in the field.
On consumer units nowadays, units sold as ringflashes tend to be units that look like a ringflash from the outside but inside they just have small one inch flashes. This not only produces small twin catchlights that most extreme macro photographers want to avoid but also makes for less than even illumination. The Pentax catchlight isn't necessarily considered more appealing by everyone though, being just short of a full circle.
Variable Output Ratios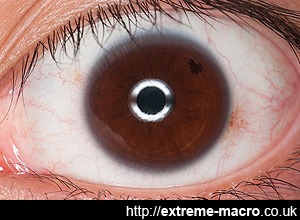 The quirky 'almost a circle' Pentax AF160FC ringflash reflection. Not necessarily to everyone's taste, Ricoh would do well to update any new version with a tube that gives a truly circular reflection but the halves of which could still be controlled independently.
The Pentax AF160FC flash lets the user vary the power of the opposing sides of the flash on any settings, using a small slider on the ringflash to vary output ratios. This gives options 2:0 left, 2:1 left:right, 2:2 left:right, 1:2 left:right, 0:2 left:right. This obviously gives the macro photographer extra lighting choices such as side lighting, and by rotating the ringflash on its mount it means you can use it to vary between top and bottom instead, or at various angles.
AF160FC Focus Lights
The Pentax AF160FC ringflash has four LED modelling lights that can be switched on to shed a bit of light on the subject before taking the shot. These are super crazy handy for the extreme macro photographer, because of the very limited amount of light in many of our situations. Not only that, but they're brilliant when doing night macro as you won't need a rig with a torch. I love this feature!
AF160FC PTTL
I tend to avoid automatic modes of every sort because they always seem to let the user down when they most need them, but Pentax AF160FC ringflash' PTTL mode works like a dream, providing excellent exposure. PTTL doesn't generally do macro very well if you're using a diffused flash, but this unit seems to be the exception. It helps to set -2EV on the camera if you're using it in my quirky way with stacked Raynoxes, but after that, the metering is spot-on.
AF160FC Manual Options
Sometimes you may not want to use PTTL because insects react too quickly to the first preflash and fly or jump away before you shoot. AF160FC also has full, 1/4, 1/16 and I tend to use 1/16 at times like this as it gives a pretty fast recharge time and you can usually machine gun a few shots off. I can usually shoot off 3 with no recharge delay if I use 1/16, continuous firing without any in-cam options for the quickest FPS flash speed.
AF160FC Adapters
The AF160FC does not fit directly onto your lens but requires a bespoke AF160FC adapter between it and the end of your lens. The sizes supplied are 49mm, 52mm, 58mm and 67mm adapter rings, as well as a macro adapter for PENTAX D-FA series macro lenses. For other sizes, use a stepping ring between the lens and one of the supplied sized adapters.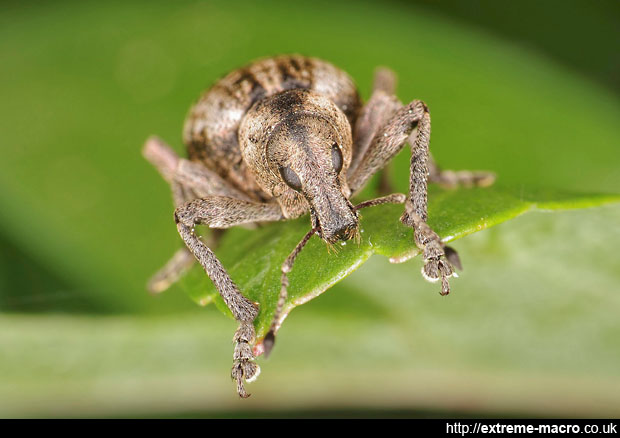 A little weevil shot with a Pentax AF160FC ringflash and stacked Raynox adapters on just a kit 50-200, a 1:1-4:1 macro zoom combination that works just great. Ringflashes are not universally popular because in the old days there was no control over the lighting ratios top/bottom, side/side etc so they only produced flat light. This has changed with modern ringflashes and the images they can produce are very well lit, better than using just a top diffuser, shots using which tend towards very dark 'underneaths' of the beetle. This image is the cover of Duff's forthcoming Beetles of Britain and Ireland Volume 2 Staphylinidae.
Using AF160FC Ringflash
Most people use this unit with a nice dedicated macro lens but I don't. I use a kit 50-200mm with stacked Raynox DCR-150 and DCR-250 diopters for much greater magnification and amazingly enough by dialling in vary compensations PTTL even works perfectly using this combo.
Quite Big
Obviously a ringflash is seated on the end of your optic, so you do have to bear in mind that this may limit the sort of spaces between branches, stems and flowers that you'll be able to squeeze your macro rig into without disturbing the vegetation which in turn will disturb your insect. To make the most of this, I think that it helps to approach subjects from slightly underneath rather than from on top - makes for a more impressive photo too. I suspect that when you approach them from undreneath then you are not contrasted against the sky, and therefore slightly less threatening?
Conclusion
This unit is definitely on the pricey side, but I have no hesitation in recommending this unit unreservedly, but it can be improved in two ways. The addition of rear sync would help macro insect shooters, and a true circular flash tube would give a more popular reflection. A circular flash tube with 4 quadrants that could each be independently controlled would be really, really sexy.
Ringflash or Ringlight?
Ringflashes and ringlights are entirely different beasts, and despite the fact that a ringlight is much cheaper, my advice would be to think twice before buying one. Very few people who buy a ringlight are satisfied with them after a few weeks of use - for a very good reason. Ringlights use LEDs and are a continuous light source, whereas ringflashes use flash to be a light source that is intense but of a very short duration. Therefore, the light from a ringflash alone will freeze your subject, whereas with a ringlight you have to rely on your shutter speed, ICO and aperture to do so. And when there's only enough light through a ringlight to manage a 1/15 exposure, then the reality is that you're unlikely to end up with satisfying sharp handheld images.
Pentax AF 160 FC Ringflash Downloads
---