Extreme Macro Studio
by Johan J Ingles-Le Nobel
Last updated August 31, 2017

COMMENTS (2)
---
An extreme macro studio need not take up more room than part of a desk, need not cost all that much, but is a must if you intend to pursue extreme macro focus stacking. It's also a great way to keep shooting macro during the winter months when there's not much going on outside.
Depending on the studio equipment that you buy, an extreme macro studio can cost as little as US$50 and as much as US$50,000+. Low cost amateur solutions typically just involve a Jansjö light and a cheap Velbon stage.
Components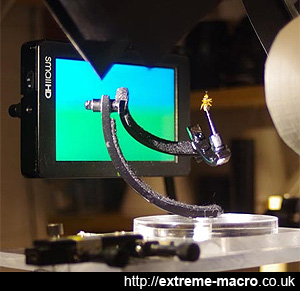 Extreme macro studio in use, with specimen mounted on homemade universal stage. The sky is the limit in terms of components and everyone's studio is slightly different.
All the lighting components of the extreme macro studio are described and discussed under the flash section, and there are also other pieces of the setup discussed elsewhere.
In particular, the various stages that are handy to use are in the equipment section, as are the other core components such as bellows and extension tubes.
There are also various other pieces of equipment that you'll find come in very useful, such as a field microscope and stereo microscope for preparing a specimen, also discussed there.
Stability
It is worth adding a note about stability at the outset, as the stability of your studio will determine which form of lighting you can use. To use continuous lighting such as Ikea Jansjo LED lamps or fibre optic illuminators, your stability needs to be exceptional. A tabletop extreme macro studio on a wooden desk 20 yards away from a road like mine is simply not stable enough to ensure that your specimen doesn't move a pixel during an exposure, so flash is my personal lighting of choice. The good news is that with flash, even the wobbliest of extreme macro studios will turn out great images, providing you have the other tools to make this possible. There are of course also ways to increase the stability of your setup which you might also want to try. For example, using a heavy marble base, or attaching everything to a nice Thorlabs optical breadboard. These come with handy 1/4-20 tapped holes that will accommodate almost everything you would like to attach, anywhere on the board. With all the equipment fixed to a single board, any vibration is shared by all the components and thus cancel out in the final photo. Finally, "sorbothane" feet are handy acquisitions for absorbing vibrations.
Dust
The miniscule piece of dust that you might occasionally come across doing an outside photo with a standard lens becomes a mountain when you do extreme macro, and dust is probably the second biggest enemy of the extreme macro photographer. There are specific techniques to work around dust in post processing if you have the right software tools, but it's always better to avoid this problem in the first place. There are various air allergy and dust remover machines widely available and if you have a dust problem you might want to consider such an investment. Dust removal sprays rank highly on the scale of uselessness but something like a Honeywell Long-Life Pure HEPA QuietCare Air Purifier with HEPA filters is pretty affordable and will do a decent job.
Temperature & Humidity
Extreme macro studios can become filled with expensive optical equipment and temperature and humidity can become a concern. I have never heard of fungus problems in desert conditions but I have in higher humidity, temperate conditions. Zeiss recommend "Reduce the relative humidity to less than 60% (never under 30% as it is dangerous for the instrument)..." and the general consensus seems to be that drier is better than more humid, and that prolonged usage in jungle areas is the most problematic. A dehumidifier might be a worthwhile investment for high humidity areas. Fungi are unlikely to succeed in a modern UV-cured adhesive under normal room temperature and humidity conditions; 40-60% humidity and 5-20 degrees C are probably safe numbers to aim for.
Related Articles
---