photomacrography.net
by Johan J Ingles-Le Nobel
Last updated August 31, 2017

COMMENTS (0)
---
The most informed extreme macro forum out there online, photomacrography.net is an online bulletin board maintained by Rik Littlefield, the author of Zerene Stacker, the stacking software used by leading extreme macro photographers.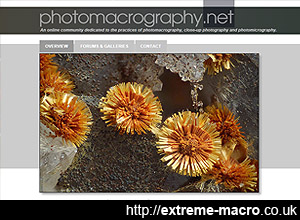 photomacrography.net, a great source of information with the best signal:noise ratio I know of.
Photomacrography.net, also known as PMN or pm.net, is a highly recommended site where the most experienced macro and focus stackers congregate and compare notes.
It's not a site about the most views or the most likes, but a sobering site with a high signal:noise ratio. A deep analytical resource with lots of useful threads to research through and learn from, covering every aspect of extreme macro photography and every magnification.
Nikon Small World Awards
At the recent Nikon Small World awards, approximately half of the top 20 placed finalists were people who regularly use photomacrography.net -- that's the level.
Photomacrography.net Images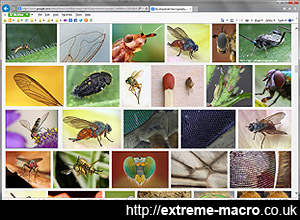 photomacrography.net and google image search - pages and pages of ideas and tips for the budding extreme macro photographer
If you're looking for ideas, Google is a great way to search through the images at Photomacrography.net. Some simple searches like stereo site:photomacrography.net, spider site:photomacrography.net or wasp site:photomacrography.net should give you some great ideas for your extreme macro stacking adventures.
Photomacrography.net FAQs
There are some great FAQs at photomacrography.net which are worth a very serious browse if you intend to immerse yourself in macro or micro photography.
Administrator's Appreciation Galleries
If you want to see some great macro stacking work, just browse this gallery. Each month an image is chosen for an admin award.
---